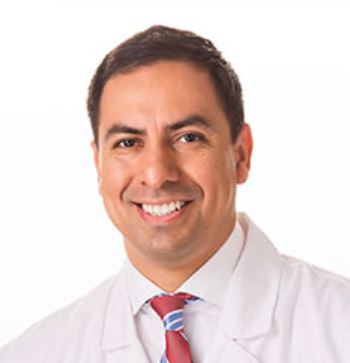 About Dr. Arouche
Antulio B. Aroche Jr, DO
Antulio B. Aroche Jr, DO is an Orthopedic Surgeon, Dual Fellowship Trained and Certified in Orthopedic and Neurosurgical Spinal Surgery at the Prestigious New England Baptist Hospital in Boston, MA. He specializes in the diagnosis and treatment of spinal diseases and conditions. He affiliates with many hospitals including St. John's Regional Medical Center and Community Memorial Hospital.  
Antulio B. Aroche Jr, DO specializes in treatment of spine conditions. He uses the latest medical technology with the state of art medical facility to provide his patients the best possible outcome.
Below are some procedures Dr. Aroche specializes in:
Minimally invasive Spine Surgery – MISS is the latest advanced technology available to perform spinal surgeries through small, less than one inch long, incisions. 

Total Disc Replacement: Mobi-C – The Mobi-C® Cervical Disc Prosthesis is indicated in skeletally mature patients for reconstruction of the disc from C3-C7 following discectomy at one level or two contiguous levels for intractable radiculopathy.

Anterior Cervical Discectomy Fusion – Anterior cervical discectomy with fusion is an operative procedure to relieve compression or pressure on nerve roots and/or the spinal cord due to a herniated disc or bone.