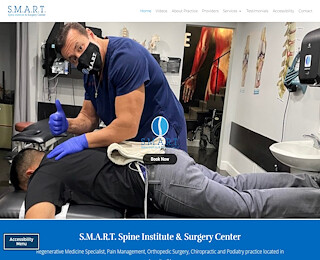 Sports injuries can be serious. Every year, millions of people suffer injuries from playing sports. When you have been hurt playing sports, you need to take proper care of the injury so it will heal properly. It is essential to visit a skilled sports medicine doctor in Los Angeles to seek treatment for your injury.
Here are five things to consider when choosing a sports medicine doctor in Los Angeles. 
Experience
Your injury is unique and it is critical that you choose a sports medicine doctor in Los Angeles with the experience to evaluate, diagnose, and treat your specific needs. Our team has the skills and training to treat every type of sports injury including ACL sprains and tears, shoulder injuries, sprained ankles, back injuries, hamstring strains, tennis elbow, and others. We are a leading chiropractor in Los Angeles, with the skills we need to take care of your injury and get you on the road to recovery.
Treatment Options
Treatment depends on the type of injury and severity. As a top sports medicine doctor in Los Angeles, we offer many types of treatments to reduce inflammation and pain and providing care to heal the injury and prevent further damage. In some cases, we will perform surgery to repair your injury. Once we stabilize the injury, we offer training, treatment, and therapy that will strengthen and resolve the problem and keep it from happening again. 
Compassionate Care
At S.M.A.R.T. Spine Institute & Surgery Center, we have a team of highly-skilled professionals who offer compassionate care to our patients. We understand your needs and will take the time to learn how the injury occurred and will provide a comprehensive diagnosis and treatment plan. We are here to answer your questions and determine the best course of action to keep you comfortable and facilitate fast treatment.
Convenient Treatment
When you require regular or ongoing treatment and care, we have the most convenient options. We offer daily treatment six days a week, Mondays through Saturdays. We provide flexible appointment days and times so you can get treatment at a time that best fits your schedule. We are here to give you the excellent treatment you need with a plan that will facilitate your healing. You can use our convenient online booking request to schedule your appointments. With our appointment options, you will be able to fit your treatment into your weekly calendar.
Unparalleled Results
At  S.M.A.R.T. Spine Institute & Surgery Center, we provide the best diagnosis, treatment, and therapy in the area. We use the latest techniques and state-of-the-art diagnostic equipment to evaluate your needs. Then, we create an individualized treatment program based on your specific needs. We work to reduce pain and inflammation and provide you with therapy that will increase strength and improve movement as you heal. With our help, you will soon see improvement and get the care that you expect. Contact SMART Spine Institute & Surgery Center for immediate relief: 626-445-0326.
S.M.A.R.T. Spine Institute & Surgery Center
+1 626-445-0326
131 East Huntington Drive
Arcadia CA 91006
US