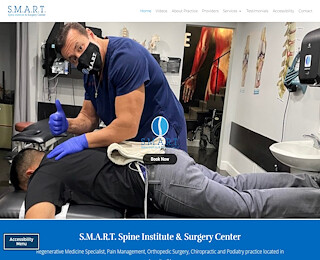 Back and neck injuries are among the most painful and can be challenging to treat. When you suffer an injury in an accident, you need to seek medical care as soon as possible. You need treatment for pain and for the ongoing healing process. A personal injury chiropractor in Pasadena, CA, will provide you with the treatment that you need to overcome your pain, reduce inflammation, and promote healing.
Types of Treatment Options
At S.M.A.R.T. Spine Institute & Surgery Center, we provide a variety of treatments including holistic options. As a leading personal injury chiropractor in Pasadena, CA, we can treat many types of injuries to the back, neck, and spine. Some of the common injuries that occur in accidents are injuries to the neck and spine, whiplash, and lower back pain. We use state-of-the-art technology to diagnose and evaluate your specific needs. Then, we will develop a treatment plan based on your unique requirements. We offer hands-on treatments such as massage and others that will reduce pain and inflammation and improve muscle function in the affected areas.
What to Do After a Neck, Back, or Spine Injury
It is essential to obtain fast medical treatment immediately following an injury to the back, neck or spine. The sooner you seek care, the more likely you will be to have a successful outcome. Our personal injury chiropractor in Pasadena has specific training as a qualified medical examiner. We therefore can provide you with the documentation you need for a workers' compensation claim. Most other chiropractors do not have this type of qualification. We will perform a medical exam and will complete all the paperwork that you require for your personal injury or workers' comp case. We are a leading personal injury chiropractor in Pasadena, CA.
Personal Injury Treatments
We offer a variety of treatments for your personal injury. Some popular treatments include massage, therapeutic ultrasound, and cold laser therapy. We examine your injury and discuss the treatment plan that will be best. We use advanced therapies to lower and manage pain, reduce inflammation, and work muscles. Treatments are safe and generally non-intrusive, so you can add chiropractic care to your other treatments. We work to provide you with the results that typically offer improvement with several or more treatments. Many people call us the best personal injury chiropractor in Pasadena, CA.
About S.M.A.R.T. Spine Institute & Surgery Center
When you are the victim of an injury due to a car accident, a fall, or a mishap at work, you need to get medical care right away. Our team of experts has the unique skillset to evaluate, diagnose, and treat your injury quickly and effectively. We understand the complexities of personal injuries and can treat any type of injury, large or small. We know that an injury can be extremely painful and it can cause you personal and financial hardships. We will work with the insurance company to provide documentation regarding your injury so you will receive the compensation you deserve for your injury. Contact SMART Spine Institute & Surgery Center for immediate relief: 626-445-0326.
S.M.A.R.T. Spine Institute & Surgery Center
+1 626-445-0326
131 East Huntington Drive
Arcadia CA 91006
US