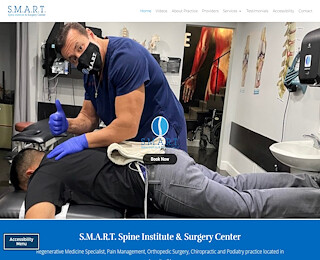 Why choose SMART Spine Institute & Surgery Center for your sports injury in Los Angeles, CA? We can diagnose and treat your sports injury, speed healing, and get you back in the game with non-surgical, holistic treatment options that lead to your well-being. If you're on the bench due to any type of sports injury or accident, know for certain we have the best care available in our clinic. Whether you need a few spinal adjustments of serious neck and back pain treatment in Los Angeles, CA, you will find that our staff genuinely cares about your road to recovery.
Sports Injuries Treated at SMART Spine Institute & Surgery Center
Whatever sport you participate in, we can offer affordable treatment, should you sustain an injury. You can do your part to prevent an injury by minimizing the risk for accidents, properly training, and improving your technique, yet even in the best of circumstances, injuries can occur. We treat all of the following types of sports injury in Los Angeles, CA:
Back injuries
Shoulder injuries
Sprained ankles
ACL sprains, tears, and other knee injuries
Tendonitis
Tennis and golf elbow
Hamstring strains
The Best Back Pain Doctor in Los Angeles
What makes SMART Spine Institute & Surgery Center the best place to receive care when you've suffered an injury while playing sports? We use the very latest technology to ensure your injury is correctly diagnosed in order to find the best way to treat your pain and speed the healing process- everything from MRIs and CTs to ultrasound and discogram equipment. If you need to see a chiropractor in Los Angeles, you won't find one better than our staff at SMART Spine Institute & Surgery Center.
Treating Sports Injuries
There's no one way to treat all sports injuries and accidents; that's why you'll find a number of approved treatment options available from our staff. If you're in pain, we can treat your injury with nerve blocks, cold lasers, joint & muscle injections, and physical therapy. We'll get you back on your feet again with therapeutic ultrasound, balance training, and chiropractic care.
Treatment For Lower Back Pain
Untreated back pain can lead to a number of serious medical conditions and health issues; when problems that cause back pain go undiagnosed for any length of time, they can cause posture issues. SMART Spine Institute & Surgery Center offers posture correction in Los Angeles, CA, using safe, non-surgical treatments that will help you enjoy a better quality of life. At the first sign of back pain, make an appointment with our staff and we'll provide a thorough evaluation and diagnosis of your injury or condition.
Contact SMART Spine Institute & Surgery Center by calling 626-445-0326 or book your initial visit and consultation online. For more information about how we treat sports injuries, click on the 'Services' link and select Sports Injury from the menu. Feel free to browse all of the free resources on our site, including videos, patient testimonials, and much more.
Sports Injury Los Angeles CA
S.M.A.R.T. Spine Institute & Surgery Center
+1 626-445-0326
131 East Huntington Drive
Arcadia
CA
91006
View Larger Map
We welcome your comments!