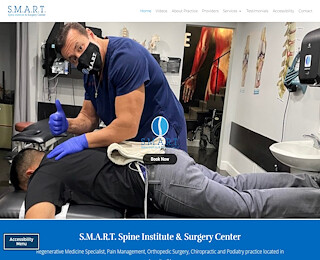 SMART Spine Institute & Surgery Center is the place you need to go to if you need a chiropractor in Pasadena. Here, we specialize in regenerative medicine, orthopedic surgery, pain management, and also chiropractic and podiatry services in Arcadia, California.
A chiropractor is a health professional that cares for a person's neuromusculoskeletal system. In other words, their bones, nerves, tendons, ligaments, and muscles. He or she may be able to help you with back and neck pain by making spinal adjustments and alignments.
Besides, a chiropractor focuses on the body's ability to heal on its own and may add to the treatment nutrition plans and exercise.
Pasadena personal injury chiropractor and other services
Among the services that our top-rated chiropractors in Pasadena, CA offer are personal injuries; chiropractic care; regenerative medicine; orthopedics; podiatry; sports injuries, and spine surgery.
A personal injury doctor will be able to look into an injury that can range from mild to severe. If this happens to you, it is essential that you get a medical evaluation right away; it does not matter if you are feeling fine.
At our center, we have many years of experience performing personal injury examinations. We will provide you with treatment to help you get back to health and enjoy life to its fullest.
As you have probably already guessed, if you are looking for chiropractic in Pasadena, California, you have come to the right place. This is one of the main activities that we do. We specialize in treating problems related to the spine, such as neck and low back pain, osteoarthritis, and pinched nerves.
Nonetheless, consulting with a chiropractor is one of the greatest ways to treat your musculoskeletal system.
Regenerative medicine treatments
To help you on your road to recovery, SMART Spine Institute & Surgery Center offers you regenerative medicine. It is an advanced field that uses treatments such as stem cell and platelet-rich plasma injections to promote healing.
However, it does not end there; you can count on us for orthopedics, podiatry, and treating sports injuries. Orthopedics is used when you lose mobility due to an injury or disease that affects your joints, bones, or muscles. Podiatry can help you with foot pain. Sports injuries occur as a consequence of a sport you practice and are very common among athletes of all disciplines and of all ages.
Finally, our spine surgery center, operating since 2011 and a Medicare Certified Surgery Center, is another option for treatment if your case warrants it.
If you need more information, contact us today to book your first appointment and get the expert chiropractic care you need and deserve. We are ready to help you find a solution to your injury or pain and work together as a team on your road to recovery.
SMART stands for Sports Medicine and Rehab Therapy. If you are looking for any of these services, this is the right place for you to get back in the game, and at the same time, prevent further injuries.
Personal Injury Chiropractor Pasadena
S.M.A.R.T. Spine Institute & Surgery Center
+1 626-445-0326
131 East Huntington Drive
Arcadia
CA
91006
View Larger Map
We welcome your comments!