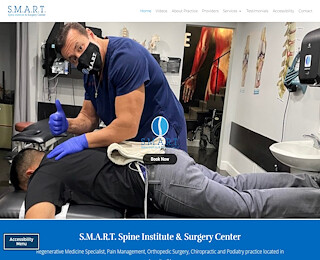 You may not be aware of the health benefits of regularly seeing a chiropractor if you've never experienced chiropractic care before. When you become a patient at SMART Spine Institute & Surgery Center, you're taking a positive and natural approach to improving your overall well-being. Here are some of the health benefits that our regular chiropractic care in Pasadena, CA, can provide for you.
Better Posture
Poor posture could put unwanted pressure on your neck, shoulders, and upper back, which could cause your discs and bones to shift. At SMART Spine Institute & Surgery Center, our chiropractors in Pasadena are specialists at identifying the cause of poor posture. When you schedule an appointment with us, we'll restore the right posture, remove irritation from the nerves and the vertebra, and let your body function at its best. 
Improved Mobility and Flexibility
Regular visits to a chiropractor will keep your body flexible, letting you be more mobile without hindrance or pain. Chiropractic care enables you to keep your body aligned. Regular chiropractic care can provide relief if you have osteoarthritis or headaches. At SMART Spine Institute & Surgery Center, our chiropractor will ensure that your whole body is working together at all times.
Sleep Better
Chronic pain and poor quality sleep go hand in hand. It's difficult to sleep if you are in pain. Not getting enough sleep makes it challenging for your body to heal the way it should. Regular visits to our chiropractor can ease the pain that may be preventing you from having a good night's sleep. At SMART Spine Institute & Surgery Center, our chiropractor will align your spine and nervous system to regulate your sleep hormone, which will allow you to get the much-needed rest. 
Pain Management
Regular chiropractic visits are more productive for pain relief than surgeries or medications that don't fix the underlying problem. A chiropractor treats pain from its source rather than masking the symptoms with medicine or surgery. At SMART Spine Institute & Surgery Center, our chiropractor can remove any nerve interference that's causing you pain and restore order to your nervous system.
Better digestion
All your systems work better when your body is aligned. When misaligned, they can cause common digestive problems, such as constipation, acid reflux, gas, heartburn, indigestion, and irritable bowel syndrome. A poor diet and a sedentary lifestyle could be the problem. At SMART Spine Institute & Surgery Center, we use the combination of spinal manipulation, exercise recommendations, soft tissue therapy, and dietary guidance to improve your digestive health.
Get Help For Our Experienced Chiropractor Pasadena CA
As you can see, regular chiropractor visits are beneficial to your health. If you want to improve your health through regular chiropractic care, the SMART Spine Institute & Surgery Center experts are here to help.
Contact us at 626-445-0326 if you'd like to learn more about the benefits associated with regular chiropractic care. Our staff will be happy to answer any questions you may have and explain how regular visits can better your life.
S.M.A.R.T. Spine Institute & Surgery Center
+1 626-445-0326
131 East Huntington Drive
Arcadia CA 91006
US