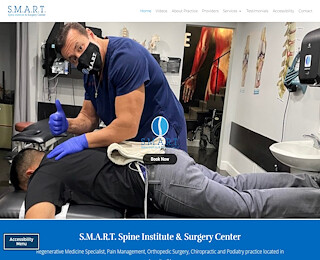 Whether you suffer a sudden injury or have ongoing back, neck, or other injuries, you can benefit from the services of a leading chiropractor in El Monte.
Here are five tips to help you choose the best chiropractor in El Monte.
Consider Experience
Neck and back injuries can be among the most serious and the most painful. When you suffer from back or neck pain you need to seek help from a qualified chiropractor in El Monte. At S.M.A.R.T. Spine Institute & Surgery Center, we have a team of experts to provide care, including orthopedic spine specialists, physical therapists, orthopedic surgeons, and expert chiropractic care. Our team has many years of experience working with all types of injuries.
Choose a Chiropractor Based on Your Needs
Whether you have suffered an auto accident, sports injury, or have acute back or neck pain, it is best to get treatment customized to meet your needs. The best chiropractor in El Monte offers a variety of treatments based on your diagnosis and needs. We work to reduce pain, decrease inflammation, and provide care that will improve your injury over time. We create a plan that will give you the care that you require for your specific injury. We treat many issues including lower back and neck pain, whiplash, bulging and herniated discs, spinal stenosis, arthritis, scoliosis, sciatica, degenerated discs, and sports injuries. We have the training and expertise to treat all types of spinal injuries and conditions.
Pick a Chiropractor that Will Properly Diagnose the Injury
As a leading chiropractor in El Monte, we utilize the latest technology to evaluate and diagnose your injury. We will look closely at your injury as well as discuss your pain and symptoms to determine the best course of treatment. We tailor our care to meet your needs to reduce the pain and inflammation of the injury and give you lasting relief. Our goal is to give you compassionate care that will improve your condition over time.
Opt for a Selection of Treatment Options
At S.M.A.R.T. Spine Institute & Surgery Center, we provide a large variety of treatment choices based on your specific needs. We use hands-on techniques and gentle therapies combined with holistic care such as nutrition recommendations, fitness coaching, lifestyle recommendations, and more. In addition to massage therapies, some of our treatments include spinal decompression, therapeutic ultrasound, cool laser therapy, and manipulation under anesthesia.
Read Testimonials and Reviews
At S.M.A.R.T. Spine Institute & Surgery Center, we are a team of highly trained and skilled professionals that provide the best care possible. As a top chiropractor in El Monte, we have many excellent reviews from our clients. You can read testimonials that give you an idea of the exceptional treatment we provide to our clients. We offer flexible hours and convenient online appointment scheduling. We are here to provide the best care to our patients. Contact SMART Spine Institute & Surgery Center for immediate relief: 626-445-0326.
S.M.A.R.T. Spine Institute & Surgery Center
+1 626-445-0326
131 East Huntington Drive
Arcadia CA 91006
US