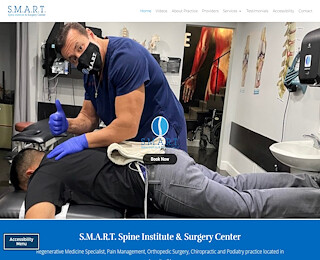 See our medical team at SMART Spine Institute & Surgery Center for bad back correction in Pasadena, CA- we can help you find the right solution to your back pain. If you've tried everything to alleviate a painful back issue without long-term results, you may be considering surgery or spending the rest of your life on medications, but before you take drastic measures, you should know the consequences of your decision. Schedule a consultation with our chiropractors to learn how we can help fix your bad back; call our office at 626-445-0326 now.
3 Ways to Correct a Bad Back; How to Choose the Right One
1. Many patients are hesitant to see a doctor for neck and back pain treatment in Pasadena, CA because they feel their pain will one day go away on its own. Patients may spend thousands of dollars on over-the-counter treatments, such as topical creams, oils, pain patches, or back braces, all to no avail. If you're still looking for the right at-home remedy, the fact is, you may never find an OTC treatment that will work for you. See our back pain doctor in Pasadena for a reliable solution that will lead to a better quality of life.
2. Surgery is a commonly accepted solution to back pain- but at what cost do patients undergo invasive back surgery hoping to find relief from their pain. In many cases, back pain worsens after surgery; in fact, mobility can sometimes become even more limited due to the extended downtime during the healing process. Before you resort to surgery for bad back correction in Pasadena, CA, see our chiropractors for safe and gentle posture correction in Pasadena, CA that could lead to a pain-free life for you.
3. Chiropractic care is the #1 recommended treatment for patients with lower back pain, bulging discs, sciatica, scoliosis, arthritis in the back, and spinal stenosis. What makes chiropractic treatment so popular is the fact that it's effective in treating pain, and, as a bonus, it's a less-invasive option. SMART Spine Institute & Surgery Center can also offer you surgery if we determine it will benefit you in the long run. The first step in finding the right treatment plan is to schedule an initial consultation with our team.
Make the smart choice and choose SMART Spine Institute & Surgery Center for your back pain treatment; chiropractic care can make it possible for you to manage pain without the need for Rx drugs or irreversible surgery. Chiropractic is a safe option because you'll always be free to choose another treatment plan if you don't experience positive results; however, that cannot be said of other solutions.
Call S.M.A.R.T. today at 626-445-0326 to request your new patient appointment; in the meanwhile, explore our website for free resources, such as videos that provide additional information about natural pain relief, holistic chiropractic treatment, and bad back correction in Pasadena, CA ar Smart Spine Institute & Surgery Center.
S.M.A.R.T. Spine Institute & Surgery Center
+1 626-445-0326
131 East Huntington Drive
Arcadia CA 91006
US